Winter by Marissa Meyer
Published November 10th by Feiwel and Friends
Genres: Young Adult, Fantasy, Science Fiction, Retellings
Edition: Hardcover
Source: Purchased
Pages: 827
Rating: 5/5 stars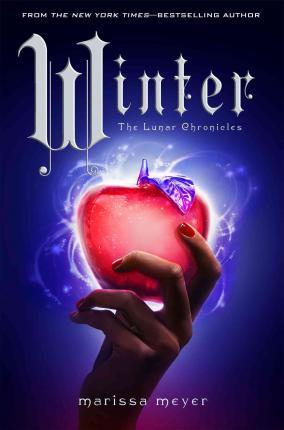 Princess Winter is admired by the Lunar people for her grace and kindness, and despite the scars that mar her face, her beauty is said to be even more breathtaking than that of her stepmother, Queen Levana.
Winter despises her stepmother, and knows Levana won't approve of her feelings for her childhood friend—the handsome palace guard, Jacin. But Winter isn't as weak as Levana believes her to be and she's been undermining her stepmother's wishes for years. Together with the cyborg mechanic, Cinder, and her allies, Winter might even have the power to launch a revolution and win a war that's been raging for far too long.
Can Cinder, Scarlet, Cress, and Winter defeat Levana and find their happily ever afters?
Winter is the 4th and final book in the Lunar Chronicles series. This book was one of my most anticipated releases of 2015, because I adored Cress, the 3rd book in the series, and was dying for the next one. Winter did not disappoint. It kept me on the edge of my seat as I was hoping the characters would win and Levana would be overthrown. There was a lot of screaming coming from me as *stuff* happened. Please don't read this review until you've read Winter, as I don't want you to be spoiled.
the characters
The best part of this book. These are characters that will be in my heart forever, because they are just so lovable. We have the characters we've had since book 1, Cinder and Kai. I LOVE them together, and I'm so happy in this book they actually were. And when my precious baby Kai had to be with Levana… *shudders* EW EW EW. Then we have Wolf and Scarlet. I felt so bad for Wolf in the book Cress, when he was separated from Scarlet, and in this book it really starts taking a toll on him. The alpha thing, and everything else… *smushes together* ADORABLENESS. Next we have probably my personal favorites, Cress and Thorne. I LOVE THORNE. But he belongs with Cress, and they are so cute together. The kiss in this book was the best thing ever and made me so happy. Winter and Jacin… I liked Winter, she was such an interesting character. But I never felt anything for Jacin. I can see why they are together, he helps her control her madness, and I like them together, but I never liked HIM that much. However, he has grown on me. So I love all these characters so much.
the plot
The plot was pretty interesting the whole time. The book itself is LONG, over 800 pages, which makes it hard for the author to keep the reader engaged the whole time, but Marissa did a good job of that. There were only a few points in the book where I thought it could be made shorter, but soon I was hooked back into the story, and those parts made sense or connected in the end. All in all, the plot of Winter was almost perfect. I still loved it. Especially that final battle scene, it was so tense and nerve-wracking.
the setting
Winter was mostly set on Luna, and I loved getting to know what living under Levana's rule was really like!
the writing
Marissa's writing, as always, flows beautifully and just makes the story 100000000 times better. She is an incredible writer, and her writing brings this story to life.
favorite quotes
1. "A kiss from the Captain would probably melt my central processor."
Thorne winked at her. "Oh trust me. It would."
2. "What did you bring me today? Delusional mutterings with a side of crazy?"
3. "See that eye roll? It translates to, 'How am I possibly keeping my hands off of you, Captain?"
4. "She was prettier than a bouquet of roses and crazier than a headless chicken. Fitting in was not an option."
5. "She's our lost princess. And she's coming home."
6. "Her whole body was wound up tight. She was ready to storm the palace herself – an army of one."
7. "My point is that I am going to figure this out, like I always do. First, we're going to find a way to get into Artemisia. We're going to find Cress and rescue Cinder and Wolf. We're going to overthrow Levana, and by the stars above, we are going to make Cinder a queen so she can pay us a lot of money from her royal coffers and we can all retire very rich and very alive, got it?"
Winter started to clap. "Brilliant speech. Such gumption and bravado."
"And yet strangely lacking in any sort of actual strategy," said Scarlet.
"Oh, good, I'm glad you noticed that too," said Iko. "I was worried my processor might be glitching."
what I didn't like
I liked how everything wrapped up in the end, but it just felt too predictable. I knew that they were going to win, and I'm so glad they did, because if they hadn't I would have been upset. I'm not sure. It just felt too much of a happily ever after ending (yes, these are fairy tale retellings, but still). I came to realize that I would have been disappointed if it had ended any other way, and now I love it.
final thoughts!
When I finished this book, I sat around for a while, because I couldn't believe that this series was over. Winter is an emotional roller coaster of a novel. With thrilling twists and turns, it kept me on the edge of my seat through all 800 pages. Marissa's beautiful prose leads you through the story like you were experiencing it yourself. You come to love and care for the characters as if they were your children, and you are as invested in the fate of Earth as they are. Winter is an incredible conclusion to the epic series that is the Lunar Chronicles.
Have you read Winter yet? Do you love the Lunar Chronicles as much as I do?
Happy reading!
Ava