Illuminae by Amie Kaufman and Jay Kristoff
Published October 20th 2015 by Knopf Books for Young Readers
Genres: Young Adult, Science Fiction
Edition: Hardcover
Source: Purchased
Pages: 599
Rating: 4.5/5 stars
This morning, Kady thought breaking up with Ezra was the hardest thing she'd have to do.
This afternoon, her planet was invaded.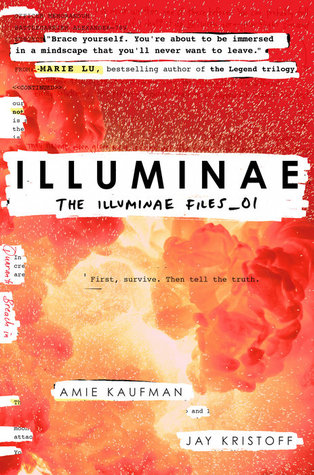 The year is 2575, and two rival megacorporations are at war over a planet that's little more than an ice-covered speck at the edge of the universe. Too bad nobody thought to warn the people living on it. With enemy fire raining down on them, Kady and Ezra—who are barely even talking to each other—are forced to fight their way onto an evacuating fleet, with an enemy warship in hot pursuit.
But their problems are just getting started. A deadly plague has broken out and is mutating, with terrifying results; the fleet's AI, which should be protecting them, may actually be their enemy; and nobody in charge will say what's really going on. As Kady hacks into a tangled web of data to find the truth, it's clear only one person can help her bring it all to light: the ex-boyfriend she swore she'd never speak to again.
Told through a fascinating dossier of hacked documents—including emails, schematics, military files, IMs, medical reports, interviews, and more—Illuminae is the first book in a heart-stopping, high-octane trilogy about lives interrupted, the price of truth, and the courage of everyday heroes.
Illuminae… You MAY have heard of it. (aka you've most likely definitely heard it because it's been getting so much hype lately.) I picked it up, and I don't normally read space books (I don't enjoy them very much for some reason), but I really enjoyed this one!
the plot
It was so interesting! Something was always happening. One of my only complaints with this book was that it took me about 150ish pages to get into. I'd put it down before because I couldn't get into it, but this time I kept reading just because I'd heard such good things, and I am so glad I did! I think part of the reason I put it down was because I didn't understand what was happening, and I didn't connect with the characters right away (more on that next). But after that 150 pages, I was LOVING it. Seriously loving it. Like, squealing-out-loud-hugging-the-book-to-my-chest-dying-inside loving it.
the characters
I liked Kady and Ezra. But I didn't really connect with them. I think part of that was because of the book's format. I didn't get to see them described or their thoughts as much as I would in a book told the normal way. AIDAN was so creepy. I actually had to set the book down a couple of times when it was just scaring me!
the romance
I liked Kady and Ezra together, but what I really enjoyed was them being separated on the different ships and broken up. I liked how it wasn't an easy relationship, it made it more realistic.
the setting
I don't normally like books set in space, but I LOVED this one! Learning about the ships and technology was really interesting.
favorite quotes
"You have me. Until ever last star in the galaxy dies.You have me."
"Am I not merciful?"
"I should have told you I loved you every day. I should have given you the stars."
"Perhaps bravery is simply the face humanity wraps around its collective madness."
"He presses the triggers. And like roses in his hands, death blooms."
"She is catalyst.
She is chaos.
I can see why he loves her."
"Miracles are statistical improbabilities. And fate is an illusion humanity uses to comfort itself in the dark. There are no absolutes in life, save death."
"You deserve every star in the galaxy laid out at your feet and a thousand diamonds in your hair. You deserve someone who'll run with you as far and as fast as you want to. Holding your hand, not holding you back."
"They are beyond me.
These humans.
With their brief lives and their tiny dreams and their hopes that seem as fragile as glass.
Until you see them by starlight, that is."
what I didn't like
The reason I gave this book 4.5 stars instead of 5 is because of the first 150 pages not hooking me in. Everything after it was amazing! Also, I didn't understand some of the hacking terminology, so that made it a little confusing at times. I was able to understand most of it based on context, but sometimes I didn't, and had to stumble through that part.
the format!!
This book is BEAUTIFUL. It's so unique on the inside, the way it's told through hacked documents: emails, IMs, etc, is awesome and I loved it. And on the outside it is gorgeous too. The bright cover, the white underneath… it's perfect.
final thoughts
Illuminae was a very good science fiction novel that I adored! I need book 2 now. I highly encourage you give this book a try, even if at the beginning you aren't loving it.
Have you read Illuminae? What were your thoughts?
Thanks for reading!
Ava