In the Afterlight by Alexandra Bracken
Published October 28th 2014 by Disney-Hyperion
Series: The Darkest Minds trilogy #3
Genres: Young Adult, Science Fiction, Dystopia
Edition: Hardcover
Source: Purchased
Pages: 535 pages
Rating: 4.5/5 stars
R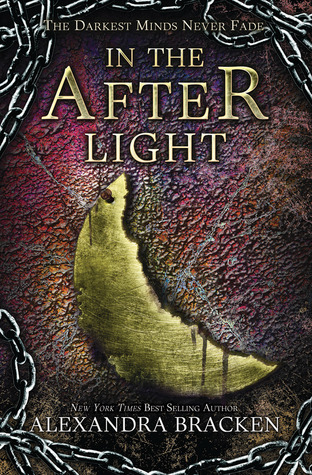 uby can't look back. Fractured by an unbearable loss, she and the kids who survived the government's attack on Los Angeles travel north to regroup. With them is a prisoner: Clancy Gray, son of the president, and one of the few people Ruby has encountered with abilities like hers. Only Ruby has any power over him, and just one slip could lead to Clancy wreaking havoc on their minds.
They are armed only with a volatile secret: proof of a government conspiracy to cover up the real cause of IAAN, the disease that has killed most of America's children and left Ruby and others like her with powers the government will kill to keep contained. But internal strife may destroy their only chance to free the "rehabilitation camps" housing thousands of other Psi kids.
Meanwhile, reunited with Liam, the boy she would-and did-sacrifice everything for to keep alive, Ruby must face the painful repercussions of having tampered with his memories of her. She turns to Cole, his older brother, to provide the intense training she knows she will need to take down Gray and the government. But Cole has demons of his own, and one fatal mistake may be the spark that sets the world on fire.
In the Afterlight is the final novel in the Darkest Minds trilogy, but this review will not contain any spoilers for the book, or the previous two books.
The way Never Fade ended made me immediately want to pick up the In the Afterlight, and so I bought it as soon as I could. As soon as it arrived, I started reading it and couldn't put it down.
what I liked
Ugh, I love these characters so much. The characters are what make me love this trilogy. They are all so unique and fun and UGH I LOVE THEM ALL. They all hold a special place in my heart. Vida, Chubs, Ruby, Liam, Zu, Cole, everyone… Alex writes amazing characters. They are so strong and despite the terrible things that have happened to them, are still decent people who are trying to do the best thing for everyone else.
The plot seems like a typical dystopian book (kids with superpowers must fight the controlling government and overthrow it) at first glance, but Alexandra makes it her own. And it is wonderful.
Alexandra's writing is beautiful, as it was in the first two books. It's captivating and gorgeous, and hooks you from the first page to the very last.
In the Afterlight is a roller coaster of emotions. I was crying and laughing again and again while reading this book.
Ruby and Liam. Gosh, I just love them together. They've been through so much, and yet are still trying to stay together. I ship Rubiam with all of my heart. They deserve to live happily ever after together.
In the Afterlight ended perfectly. I'm not sure if I've ever been so satisfied with a series/trilogy ending than I am with this one.
Ruby's character development from The Darkest Minds to this book is the best ever. She's changed from a scared little girl to a confident young woman, and I've loved watching the transformation.
what I didn't like
This book is slower-paced than the first two, but is also filled with action scenes that make up for it.
The characters fought a lot. (Okay, this is probably a good thing. There needs to be some conflict between them, otherwise it would be boring.) But I wanted my gang to be happy and united and together, and a lot of times they were upset at each other for various reasons.
I didn't like how Ruby kept things from the rest of the group. I understood her reasons, sure, but a lot of the problems between her and other characters wouldn't have happened if she'd just shared her plans with the group.
I hate Clancy with everything I have. He is a despicable human being. Alexandra writes an amazing and horrifying villain. (It's probably a good thing I didn't like him. I mean, he is the villain…)
final thoughts
In the Afterlight was a stunning conclusion to an epic trilogy that I love with all my heart. It caused a lot of pain, but it also was an incredible story that wrapped up these books perfectly. I love these characters and these books and just everything about them so much. *squeals and hugs book to chest, rocks slowly back and forth while crying*
Have you read these books? If you haven't, you should! How did you like them?
Thanks for reading!
Ava