Interview with Nicole Castroman
Nicole Castroman is the author of Blackhearts, her debut novel releasing in February 2016! I was lucky enough to get to interview her, and read an early copy of her book. You can read my review here. My questions will be in bold, and her answers will be italicized.
Nicole Castroman
Author of BLACKHEARTS (Simon & Schuster, 2016)
@nicolecastroman on Twitter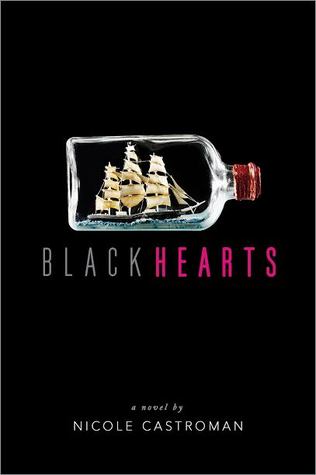 Synopsis:
Blackbeard the pirate was known for striking fear in the hearts of the bravest of sailors. But once he was just a young man who dreamed of leaving his rigid life behind to chase adventure in faraway lands. Nothing could stop him—until he met the one girl who would change everything.
Edward "Teach" Drummond, son of one of Bristol's richest merchants, has just returned from a year-long journey on the high seas to find his life in shambles. Betrothed to a girl he doesn't love and sick of the high society he was born into, Teach dreams only of returning to the vast ocean he'd begun to call home. There's just one problem: convincing his father to let him leave and never come back.
Following her parents' deaths, Anne Barrett is left penniless and soon to be homeless. Though she's barely worked a day in her life, Anne is forced to take a job as a maid in the home of Master Drummond. Lonely days stretch into weeks, and Anne longs for escape. How will she ever realize her dream of sailing to Curaçao—where her mother was born—when she's stuck in England?
From the moment Teach and Anne meet, they set the world ablaze. Drawn to each other, they're trapped by society and their own circumstances. Faced with an impossible choice, they must decide to chase their dreams and go, or follow their hearts and stay.
Tell us a little about yourself, and your book!
I've always loved languages and learning about other cultures. My husband is part German, part Uruguayan and I have two beautiful children. They've supported me during this entire writing process.
My debut BLACKHEARTS is a Blackbeard origin story. It's PRE-PIRATE, before Blackbeard became one of the most notorious pirates to sail the seas.
What was your inspiration for Blackhearts?
I came up with the idea for BLACKHEARTS because of a family vacation to Charleston. I found out that Blackbeard the pirate held the entire city hostage in 1718. Otherwise, not much information is known about him. I thought it would be cool to write a young Edward Teach, before he became a pirate. I know some people expect a Pirates of the Caribbean kind of story, but that would have been too easy. I didn't want to just write about a young guy on a ship and have him act like a pirate already. There would have been zero character development.
What research did you have to do for the book?
I did a lot of research. I checked out books from the library and held onto them for three months.
What were the easiest and hardest parts of writing Blackhearts?
Honestly, the story of BLACKHEARTS just flowed out of me. It wasn't perfect by any means, but I loved where it went. Of course, it only improved when I worked with my editor. Working with her, I learned to love the revisions process. THAT is when the real story develops.
Tell us about your publishing journey.
My first few manuscripts were horrible. Not the stories themselves, but the execution. My writing really improved when I met my BFF and critique partner, Becky Wallace. BLACKHEARTS was my seventh manuscript.
Whose perspective did you enjoy writing from more, Teach or Anne's?
That's a hard question. I actually enjoyed writing from both of their perspectives. At first, I thought it would be mostly from Teach's POV, but Anne took on a life of her own and this is as much her story as it is his.
If you weren't writing, what would your career be? What is your dream career?
If I wasn't writing, I would want to do something where I could use my languages and travel. I've always been fascinated by other countries and cultures.
What's one piece of advice you have for aspiring authors and writers?
Never give up. I wrote for 6 years, signed with an agent and split with that agent. It was hard, but after I parted ways with my first literary agent, I wrote BLACKHEARTS. I signed with my new agent 7 weeks after I queried it.
Do you listen to music when you write? What kind of music?
I can't listen to music while I write. I'm impressed with people who can.
If Blackhearts was adapted for a movie, what would your dream cast be?
This is hard! I'm going to have to give this some more thought. Honestly, when I picture Teach, I picture a younger version of Aidan Turner.
Have you always loved writing? When you were younger, did you know you wanted to be an author?
I've always loved to write. My mom always told me I should do it, because I have an active imagination. I should have listened to her a lot sooner. 🙂
If you can tell us, do you plan on continuing Teach and Anne's story in another book?
I would love to continue Anne and Teach's story. We will have to wait and see.
Thanks, Nicole, for answering my questions! 
I hope you enjoyed this interview, and that you plan on reading Blackhearts when it releases!
Are you looking forward to Blackhearts? If you've read it, what did you think of it? If you haven't read it yet, be sure to preorder it and support Nicole!
Thanks for reading!
Hugs,
Ava