The Girl From Everywhere by Heidi Heilig

Published February 16th 2016 by Greenwillow Books

Genres: Young Adult, Fantasy, Time Travel

Edition: ARC

Source: loaned to me by a friend

Pages: 443

Rating: 4/5 stars

Heidi Heilig's debut teen fantasy sweeps from modern-day New York City to nineteenth-century Hawaii to places of myth and legend. Sixteen-year-old Nix has sailed across the globe and through centuries aboard her time-traveling father's ship. But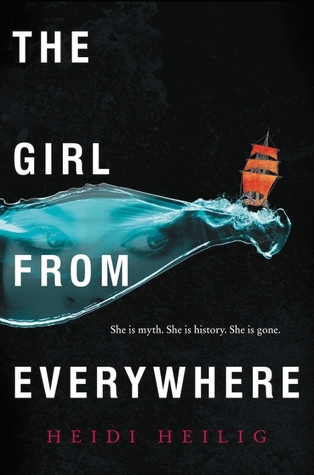 when he gambles with her very existence, it all may be about to end. The Girl from Everywhere, the first of two books, will dazzle readers of Sabaa Tahir, Rae Carson, and Rachel Hartman.
Nix's life began in Honolulu in 1868. Since then she has traveled to mythic Scandinavia, a land from the tales of One Thousand and One Nights, modern-day New York City, and many more places both real and imagined. As long as he has a map, Nix's father can sail his ship, The Temptation, to any place, any time. But now he's uncovered the one map he's always sought—1868 Honolulu, before Nix's mother died in childbirth. Nix's life—her entire existence—is at stake. No one knows what will happen if her father changes the past. It could erase Nix's future, her dreams, her adventures . . . her connection with the charming Persian thief, Kash, who's been part of their crew for two years. If Nix helps her father reunite with the love of his life, it will cost her her own.
In The Girl from Everywhere, Heidi Heilig blends fantasy, history, and a modern sensibility with witty, fast-paced dialogue, breathless adventure, and enchanting romance.
This book is one of my most anticipated releases of 2016, so when my friend Brooke offered to let me borrow her ARC, of course I said yes! (Thank you so much, Brooke!!) The author, Heidi, is so sweet, and I'm happy to call her a friend. Getting to read her book early was such a treat. Time travel plus pirates-PERFECTION!
what I liked
I have not read many time travel books. I'm not sure if I purposefully stay away from them because of confusingness, or if I just haven't found that many before. But I LOVED how Nix and her father time traveled within this book. The concept of the maps was so intriguing.
Heidi's writing is beautiful. It is just gorgeous and I adored it. I hope she writes many, many more books so I can read and love all of them.
I loved Nix and her father's complicated relationship. You really could see her conflict with him. Father-daughter relationships are something not explored very often in YA, and I loved reading about theirs, however complicated it was.
I loved reading about Hawaii, and all the places Nix and her father traveled. The descriptions are so vivid, and it feels like you are experiencing it alongside Nix.
There IS a love triangle in this book, but it almost doesn't count as a love triangle just because there is only one side to be on. Well, I think there is. It was obvious who was better suited for Nix, and their relationship was so cute. I still despised the fact that there WAS a love triangle (more on this later).
I loved the diversity of the crew of The Temptation. It was so great how they were from all over the world and through time.
Kashmir was a fun, spunky character. I loved him, and his banter with Nix was so fun to read. Also, he is a perfect book boyfriend.
what I didn't like
At first, the time traveling was a little confusing. But soon I understood how it worked and it wasn't a problem anymore.
The love triangle. I do NOT like love triangles in books. If they are done well, it makes it better, and in this book, it was done well. At least compared to a lot of other books with love triangles I've read. But I still didn't enjoy it. In the synopsis, it hints at an epic romance. BUT WHY WAS THERE TWO GUYS? I didn't care for one of them at all, and he wasn't suited for Nix in my opinion, but he still existed. Nix felt something for both of them, and that bothered me.
final thoughts
Overall, this was a really wonderful and gripping debut. I'm excited to see how Heidi continues this story. (There is going to be a second, and I can't wait!) When this book comes out, I encourage you to go buy a copy and see how you like it.
Have you read The Girl From Everywhere? If so, how did you like it? If not, are you excited for it?
Thanks for reading!
Ava