Days Of Blood And Starlight By Laini Taylor

Published: November 6th 2012 by Little, Brown Books for Young Readers

Genres: Young Adult, Fantasy

Edition: Hardcover

Source: Purchased

Pages: 517

Rating: 4/5 stars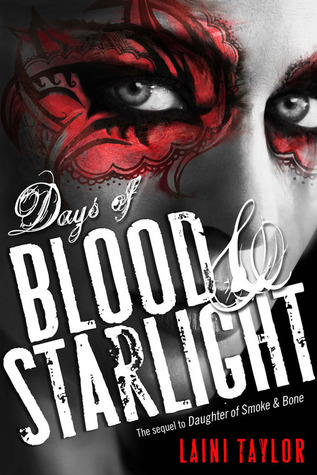 Once upon a time, an angel and a devil fell in love and dared to imagine a world free of bloodshed and war.
This is not that world.
Art student and monster's apprentice Karou finally has the answers she has always sought. She knows who she is—andwhat she is. But with this knowledge comes another truth she would give anything to undo: She loved the enemy and he betrayed her, and a world suffered for it.
In this stunning sequel to the highly acclaimed Daughter of Smoke & Bone, Karou must decide how far she'll go to avenge her people. Filled with heartbreak and beauty, secrets and impossible choices, Days of Blood & Starlight finds Karou and Akiva on opposing sides as an age-old war stirs back to life.
While Karou and her allies build a monstrous army in a land of dust and starlight, Akiva wages a different sort of battle: a battle for redemption. For hope.
But can any hope be salvaged from the ashes of their broken dream?
This review will be completely spoiler free for this book, but may contain spoilers for the first book.
I LOVED the first book in this trilogy, Daughter Of Smoke and Bone. And while I highly enjoyed this one, it just didn't live up to how much I enjoyed the first one. I think the reason for that was that it didn't start picking up till about page 200. Before then, I just wasn't enjoying it as much. I still was really liking it, but just not as much as I wanted to.
what I liked
I LOVE Mik and Zuzana. Zuzana is an adorable best friend, and wasn't just the "main character's best friend who's bland and has no place in the story and I don't really care about", Zuzana is PERFECT. She's fun and spunky and wants to help Karou. Her and Mik are so cute, and I very much hope that we see more of them in the 3rd book.
I really liked seeing Akiva's world, and getting to know Hazael and Liraz better. I adore the relationship the three of them have.
Karou, Karou… I LOVE KAROU. Can I just have her and Zuze as my best friends? Blue hair, can fly…she's just awesome. 
The writing is beautiful and mesmerizing and gorgeous. It's the kind of writing I wish I had written, because it's AMAZING. But sometimes it can get a little flowery. It's a gorgeous kind of flowery, for sure, but it is still flowery.
I adore Ziri. He's just the cutest thing.
I loved seeing more of Eretz.
what I didn't like
I wanted more Karou and Akiva. Yes, we see both of them, but not together, and I love them together.
I HATE THIAGO. When Karou has to continuously see and interact with him… *shudders*
We spent a lot of the time at the sand castle, and I wanted more action! It was a little slow at the beginning.
The first book was character-based, and I loved it so much. The characters are what makes a book memorable for me. I felt like this book was more-plot based, and so I didn't love it as much.
favorite quotes
"A dream dirty and bruised is better than no dream at all."
"He dropped to his knees, and the air between them rippled with Karou's crippling magic and with memory. The day of her death, this is what she had seen, this: Akiva on his knees, sick with the weight of this same magic coursing off Thiago's soldiers, and he had struggled to hold his head up and look at her—just like this—with horror and despair and love—and she had wanted more than she had ever wanted anything to go to him and hold him, whisper to him that she loved him and was going to save him, but she couldn't, not then, and she couldn't now, not because of shackles or pinions or the executioner's ax but because he was the enemy. He had proven it beyond any horror she would ever have believed, beyond any betrayal she could ever have dreamed, and he could never be forgiven, not ever.But… then… her hands fell to her sides."
"Once upon a time, an angel and a devil fell in love and dared to imagine a new way of living—one without massacres and torn throats and bonfires of the fallen, without revenants or bastard armies or children ripped from their mothers' arms to take their turn in the killing and dying.Once, the lovers lay entwined in the moon's secret temple and dreamed of a world that was a like a jewel-box without a jewel—a paradise waiting for them to find it and fill it with their happiness.This was not that world."
"There was darkness, and monsters vast as worlds swam in it."
final thoughts
I highly recommend you read this trilogy. These characters will stick with you forever, and become close to your heart. I enjoyed this book, but do think it was my least favorite of the trilogy (because by the time this review went up, I had finished the third book.)
READ THIS TRILOGY. I adore it to pieces. At least try the first book? Pretty please…
Have you read this book? How did you like it compared to the first one? Do you plan on reading this trilogy if you haven't already?
Ava