Sword and Verse by Kathy MacMillan

Published January 19th 2016 by HarperTeen

Genres: Young Adult, Fantasy, Romance

Edition: ARC

Source: loaned to me by friend

Rating: 2/5 stars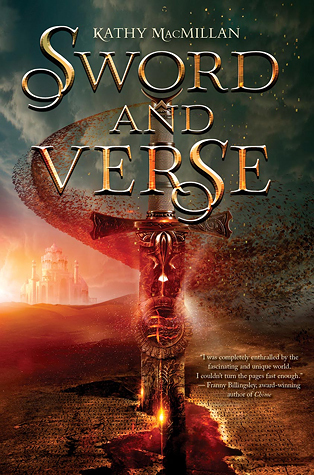 Raisa was just a child when she was sold to work as a slave in the kingdom of Qilara. Despite her young age, her father was teaching her to read and write, grooming her to take his place as a Learned One. In Qilara, the Arnathim, like Raisa, are the lowest class, and literacy is a capital offense. What's more, only the king, prince, tutor, and tutor-in-training are allowed to learn the very highest order language, the language of the gods. So when the tutor-in-training is executed for teaching slaves this sacred language, and Raisa is selected to replace her, Raisa knows any slipup on her part could mean death.
Keeping her secret is hard enough, but the romance that's been growing between her and Prince Mati isn't helping matters. Then Raisa is approached by the Resistance—an underground army of slave rebels—to help liberate Arnath slaves. She wants to free her people, but that would mean aiding a war against Mati. As Raisa struggles with what to do, she discovers a secret that the Qilarites have been hiding for centuries—one that, if uncovered, could bring the kingdom to its knees.
I was really excited for this book, and getting to read it early was amazing. But sadly, this book wasn't. Sword and Verse let me down.
what I liked
The way Kathy created a whole language in this book was SO INTERESTING. I loved reading about it.
While I did have some complaints about the romance (more on that below), I still liked that there was NO LOVE TRIANGLE. It was Raisa and Mati from the start, with no added useless love interests.
The ending felt a little rushed, but I still liked where the story concluded.
The world building in Sword and Verse was ON POINT. I wasn't ever confused or lost.
I couldn't put this book down, I had to find out what happened next.
what I didn't like
I personally thought the characters in Sword and Verse were boring and bland, especially Raisa. I didn't connect with her at all.
Unoriginal plot and storyline. It just felt like I'd read something like this before, which was disappointing. The concept of writing was neat, but the revolution part seemed not unique.
Liked the concept of the writing in the society, but it got to be a lot of information for my tiny brain to remember.
Sword and Verse revolved around the romance. It seemed like every decision Raisa made, it was for Mati, and while that was understandable, it didn't make the story very interesting.
Speaking of the romance, it was sort of instalove. By page 20, Raisa was already liking him, and by page 80, they've already said I love you. I didn't like it. And it was unoriginal. The prince falls for the lowly slave girl who he CAN'T love but he does, and so they must keep their relationship a secret. I've READ THAT BEFORE.
The pacing was a little odd, sometimes it was slow and sometimes it was fast. If only it had been consistent, I would have enjoyed it more.
I was bored by the snippets of mythology at the beginnings of the chapters, and found myself skimming over them.
final thoughts
I was disappointed by this book, but I do feel like some people would like it, so if it interests you, give it a try. Sadly, it just didn't work for me.
Have you read this book? How'd you like it? If you haven't, are you going to?
Ava