5 Reasons Why You Should Read Blackhearts

I have teamed up with a few amazing bloggers to promote Blackhearts on its release day! You can use the hashtag #prepiratenation to spread love and shout about Blackhearts, and tweet congratulations at Nicole! (@nicolecastroman) Thanks to Stephanie at Chasm of Books for organizing this to promote this amazing book!

Blackhearts, a debut novel by Nicole Castroman, releases today, and I think you should definitely buy it. So, I've made a list of 5 reasons why you should read it! There's even international and US giveaways at the bottom. If you're still not convinced, check out my review here, and my interview with Nicole here.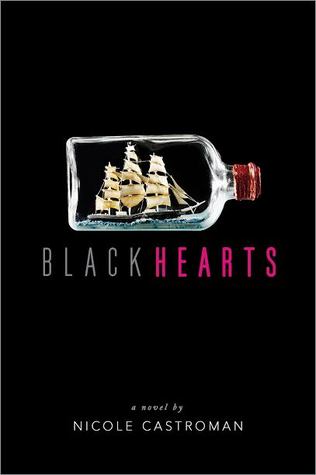 Blackbeard the pirate was known for striking fear in the hearts of the bravest of sailors. But once he was just a young man who dreamed of leaving his rigid life behind to chase adventure in faraway lands. Nothing could stop him—until he met the one girl who would change everything.
Edward "Teach" Drummond, son of one of Bristol's richest merchants, has just returned from a year-long journey on the high seas to find his life in shambles. Betrothed to a girl he doesn't love and sick of the high society he was born into, Teach dreams only of returning to the vast ocean he'd begun to call home. There's just one problem: convincing his father to let him leave and never come back.
Following her parents' deaths, Anne Barrett is left penniless and soon to be homeless. Though she's barely worked a day in her life, Anne is forced to take a job as a maid in the home of Master Drummond. Lonely days stretch into weeks, and Anne longs for escape. How will she ever realize her dream of sailing to Curaçao—where her mother was born—when she's stuck in England?
From the moment Teach and Anne meet, they set the world ablaze. Drawn to each other, they're trapped by society and their own circumstances. Faced with an impossible choice, they must decide to chase their dreams and go, or follow their hearts and stay.
Buy Blackhearts:
Amazon | Book Depository | Barnes and Noble
Anyway, here are 5 reasons why you should purchase and read Blackhearts!
1. Blackbeard pre-pirate.
Blackhearts centers around Blackbeard before he became a pirate, and it is SO INTERESTING.
2. Swoon-worthy male character.
Teach, who Blackbeard is known as in Blackhearts, is the ultimate book boyfriend. Or maybe I just have a thing for pirates. But I digress. He is just SO attractive.
3. Slow burn romance.
No insta-love here, folks! This is as good as it gets, and was so great to read.
4. Strong, biracial female character.
I loved Anne! Reading about a biracial character's struggles in the past was so sad, but interesting.
5. Gorgeous writing.
While reading Blackhearts, I couldn't believe that this was Nicole's debut. The writing was beautiful and mesmerizing and I loved it.
Here are the links to the Rafflecopter giveaways!
RaffleCopter form for Blackhearts international giveaway:
To win a hardcover of Blackhearts from anywhere the Book Depository ships, enter here!
RaffleCopter form for US only giveaway:
To win a signed hardcover of Blackhearts plus swag, enter here!
And if you'd like to check out the other wonderful blogs promoting Blackhearts, here's a list (do it, their posts are AMAZING!):
Bookishness and Tea (oh, that's me!)
Have I convinced you to read Blackhearts? If you've already read it, what did you think?
Thanks for reading!
Ava