The Night Circus by Erin Morgenstern

Published September 13th 2011 by Doubleday

Genres: Fiction, Fantasy, Historical Fiction, Romance

Edition: Hardcover

Pages: 387

Source: Purchased

Rating: 4.5/5 stars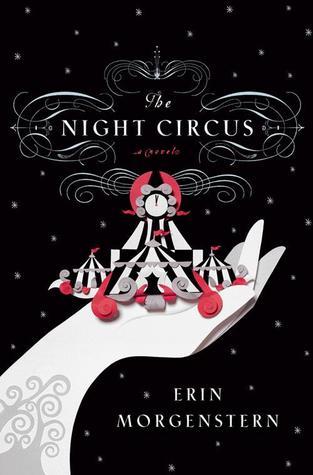 The circus arrives without warning. No announcements precede it, no paper notices plastered on lampposts and billboards. It is simply there, when yesterday it was not.
Within these nocturnal black-and-white striped tents awaits an utterly unique, a feast for the senses, where one can get lost in a maze of clouds, meander through a lush garden made of ice, stare in wonderment as the tattooed contortionist folds herself into a small glass box, and become deliciously tipsy from the scents of caramel and cinnamon that waft through the air.
Welcome to Le Cirque des Rêves.
Beyond the smoke and mirrors, however, a fierce competition is under way–a contest between two young illusionists, Celia and Marco, who have been trained since childhood to compete in a "game" to which they have been irrevocably bound by their mercurial masters. Unbeknownst to the players, this is a game in which only one can be left standing, and the circus is but the stage for a remarkable battle of imagination and will.
As the circus travels around the world, the feats of magic gain fantastical new heights with every stop. The game is well under way and the lives of all those involved–the eccentric circus owner, the elusive contortionist, the mystical fortune-teller, and a pair of red-headed twins born backstage among them–are swept up in a wake of spells and charms.
But when Celia discovers that Marco is her adversary, they begin to think of the game not as a competition but as a wonderful collaboration. With no knowledge of how the game must end, they innocently tumble headfirst into love. A deep, passionate, and magical love that makes the lights flicker and the room grow warm whenever they so much as brush hands.
Their masters still pull the strings, however, and this unforeseen occurrence forces them to intervene with dangerous consequences, leaving the lives of everyone from the performers to the patrons hanging in the balance.
Both playful and seductive, The Night Circus, Erin Morgenstern's spell-casting debut, is a mesmerizing love story for the ages.
I loved every minute of The Night Circus. This was an incredible, incredible book.
what I liked
The writing in this book is just gorgeous. I don't even have the words to describe how wonderful it is to read. Erin Morgenstern strings together words into sentences that catch you by surprise, how wonderful they are. This woman is an incredible writer, and I cannot believe this was her debut novel.
I adored the romance in this book. It is the opposite of insta-love, and it was refreshing and swoon-worthy. Celia and Marco took forever to realize they were in love with each other. I loved every minute of their time together.
It feels like you were experiencing the circus alongside the characters. The descriptions in this book are so elaborate and rich. Throughout the book, I found myself wishing that I could visit this circus, and see the wonders for myself. The Night Circus is a delight for your senses.
This book destroyed me. A little over halfway through the book, horrifying things started happening, and I began hoping that the book would end happily.
The Night Circus was mysterious and secretive, and it was absolutely incredible to read about.
The main plot of the book is the competition between Marco and Celia, but there is so much more to it than that. This book is layered with so many different pieces that all fit perfectly together. You might think that the jumping between time periods is disorienting, but I promise you, it all weaves together into a masterpiece.
I love these characters, especially Celia. I loved Bailey and Poppet and Widget, and their story. Marco was also an interesting character to read about. I loved the reveurs. I enjoyed the way each character's story connected and intertwined with each other's.
what I didn't like
The Night Circus is extremely slow paced. It's beautiful, but the focus in the book was the writing, not the plot, which made me dock a half star from my rating. I enjoyed the slow pace, but I also struggled with it.
Although the romance seems like the typical 'star-crossed lovers' trope we see so often in YA, and in some ways, it is, it is made unique in this book.
favorite quotes
"Secrets have power. And that power diminishes when they are shared, so they are best kept and kept well. Sharing secrets, real secrets, important ones, with even one other person, will change them. Writing them down is worse, because who can tell how many eyes might see them inscribed on paper, no matter how careful you might be with it. So it's really best to keep your secrets when you have them, for their own good, as well as yours."
"People see what they wish to see. And in most cases, what they are told that they see."
"You may tell a tale that takes up residence in someone's soul, becomes their blood and self and purpose. That tale will move them and drive them and who knows that they might do because of it, because of your words. That is your role, your gift."
"Most maidens are perfectly capable of rescuing themselves in my experience, at least the ones worth something, in any case."
"Someone needs to tell those tales. When the battles are fought and won and lost, when the pirates find their treasures and the dragons eat their foes for breakfast with a nice cup of Lapsang souchong, someone needs to tell their bits of overlapping narrative. There's magic in that. It's in the listener, and for each and every ear it will be different, and it will affect them in ways they can never predict. From the mundane to the profound. You may tell a tale that takes up residence in someone's soul, becomes their blood and self and purpose. That tale will move them and drive them and who knows what they might do because of it, because of your words. That is your role, your gift. Your sister may be able to see the future, but you yourself can shape it, boy. Do not forget that… there are many kinds of magic, after all."
"I am tired of trying to hold things together that cannot be held. Trying to control what cannot be controlled. I am tired of denying myself what I want for fear of breaking things I cannot fix. They will break no matter what we do."
"We lead strange lives, chasing our dreams around from place to place."
"I have tried to let you go and I cannot. I cannot stop thinking of you. I cannot stop dreaming about you."
"Do you remember all of your audiences?" Marco asks.
"Not all of them," Celia says. "But I remember the people who look at me the way you do."
"What way might that be?"
"As though they cannot decide if they are afraid of me or they want to kiss me."
" I am not afraid of you," Marco says."
"The circus arrives without warning. No announcements precede it. It is simply there, when yesterday it was not. Within the black-and-white striped canvas tents is an utterly unique experience full of breathtaking amazements. It is called Le Cirque des Rêves, and it is only open at night."
"But I'm not special," Bailey says, "not the way they are. I'm not anyone important."
"I know," Celia said, "you are not destined or chosen. I wish I could tell you that you were if that would make it easier, but it is not true. You are in the right place, at the right time, and you care enough to do what needs to be done. Sometimes that is enough."
"The past stays on you the way powdered sugar stays on your fingers. Some people can get rid of it but it's still there, the events and things that pushed you to where you are now."
final thoughts
The Night Circus is a gorgeous, heartbreaking, magical, and breathtaking. It truly feels like you are at the circus. I highly, highly recommend this book. It is a work of art, a masterpiece that deserves to be read by everyone.
Have you read The Night Circus? Did you like it as much as I did?
Thanks for reading!
Ava