Ignite Me by Tahereh Mafi
Published February 4th 2014 by HarperCollins
Genres: Young Adult, Science Fiction, Dystopia
Edition: Hardcover
Source: Purchased
Pages: 409
Rating: 3.5/5 stars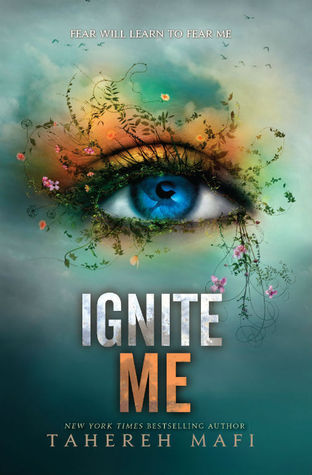 The heart-stopping conclusion to the New York Times bestselling Shatter Me series, which Ransom Riggs, bestselling author of Miss Peregrine's Home for Peculiar Children, called "a thrilling, high-stakes saga of self-discovery and forbidden love."
With Omega Point destroyed, Juliette doesn't know if the rebels, her friends, or even Adam are alive. But that won't keep her from trying to take down The Reestablishment once and for all. Now she must rely on Warner, the handsome commander of Sector 45. The one person she never thought she could trust. The same person who saved her life. He promises to help Juliette master her powers and save their dying world . . . but that's not all he wants with her.
The Shatter Me series is perfect for fans who crave action-packed young adult novels with tantalizing romance like Divergent by Veronica Roth, The Hunger Games by Suzanne Collins, and Legend by Marie Lu. Tahereh Mafi has created a captivating and original story that combines the best of dystopian and paranormal, and was praised by Publishers Weekly as "a gripping read from an author who's not afraid to take risks." Now this final book brings the series to a shocking and satisfying end.
Ignite Me is the final book in they Shatter Me trilogy, so if you have not read it, please do not read this review, because of *SPOILERS!*
Ignite Me was…good, but not great. The first two books in the series were okay, but not fantastic. Juliette was moping around, the writing was odd, and there were other things that I did not love. This book, however, I enjoyed more. It might have to do with the fact that I LOVE Warner. But that's basically the only thing I adored about Ignite Me. I just felt meh about it.
what I liked
The characters. James is the cutest thing in the universe. I want Kenji as my best friend, he is so perfect and funny, and I was happy Juliette became so close to him. Warner is my favorite person in the universe. Where can I buy him? Seriously, I loved him in this book. Juliette was way more badass than in the previous books, but she still acted selfish at times. She has changed a a lot for the better since book 1, which I think is so great, because in the previous books I didn't like her very much.
I loved Kenji and Juliette's relationship. Their friendship and banter is what made me like this book.
The writing was still a little choppy and odd, like the 1st two books, but I think I was used to it by now, and liked it more. Sometimes it was beautiful and sometimes it was just annoying.
what I didn't like
We spent most of the book with Warner or doing other non-battling stuff, and only the last part of the book was the actual fighting part, which was disappointing. I expected more action! Ignite Me fell short there.
Adam needs to stop being moody, rude, angry, and annoying. I honestly really disliked him in this book.
I'm still not a huge fan of Juliette. She just annoys me.
favorite quotes
"Ignite, my love. Ignite."
"Words, I think, are such unpredictable creatures.
No gun, no sword, no army or king will ever be more powerful than a sentence. Swords may cut and kill, but words will stab and stay, burying themselves in our bones to become corpses we carry into the future, all the time digging and failing to rip their skeletons from our flesh."
"And we are quotation marks, inverted and upside down, clinging to one another at the end of this life sentence. Trapped by lives we did not choose."
"It's the kind of kiss that inspires stars to climb into the sky and light up the world."
"The tattoo is just setting below his hp bone.
H e l l i s e m p t y
a n d a l l t h e d e v i l s a r e h e r e
I kiss my way across the words.
Kissing away the devils.
Kissing away the pain."

"I like the way I feel about myself when I'm with him." I say quietly. "Warner thinks I'm strong and smart and capable and he actually values my opinion. He makes me feel like his equal–like I can accomplish just as much as he can, and more. And if I do something incredible, he's not even surprised. He expects it. He doesn't treat me like I'm some fragile little girl who needs to be protected all the time."
"Hey, um, I'm sorry to bother you, but I'm looking for a friend of mine," he says. "Have you seen her? She's a tiny little thing, cries a lot, spends too much time with her feelings-"
"Shut up, Kenji!"
"Oh wait!" he says. "It is you."
"Are you out of your goddamn mind? You think we can take on two hundred soldiers? I know I am an extremely attractive man, J, but I am not Bruce Lee."
"Who's Bruce Lee?"
"Who's Bruce Lee?" Kenji asks, horrified. "Oh my God. We can't even be friends anymore."
"Why? Was he a friend of yours?"
"You know what," he says, "just stop. Just—I can't even talk to you right now."
"Why do you call her 'love'?" James asks. "I've heard you say that before, too. A lot. Are you in love with her? I think Adam's in love with her. Kenji's not in love with her, though. I already asked him."
Warner blinks at him.
"Well?" James asks.
"Well what?"
"Are you in love with her?"
"Are you in love with her?"
"What?" James blushes. "No. She's like a million years older than me."
"Would anyone else like to take over this conversation?" Warner asks, looking around the group."
"Come back to life, love. I'll be here when you wake up."
"I'm not trying to fix you; I don't think you need to be fixed. I'm not trying to turn you into someone else. I only want you to be who you already are. Because I think I know the real you. I think I've seen him."
Warner says nothing, his chest rising and falling.
"I don't care what anyone else says about you," I tell him. "I think you're a good person."
"So that's it?" Kenji says. "You just like him for his personality, huh?""What?""All of this," Kenji says, waving a hand in the air, "has nothing to do with him being all sexy and shit and him being able to touch you all the time?""You think Warner is sexy?" "That is not what I said."
final thoughts
This was a okay conclusion to a okay trilogy. That basically sums up my thoughts on this book. What makes these books good is not the plot, but the characters. If not for these characters, I don't think I would have enjoyed it at all. Since Kenji was in this book, I did like it, or at least parts of it. I had a lot of favorite quotes, and the banter between characters was amazing.
Have you read Ignite Me? What were your thoughts?
Ava