Burning Glass by Kathryn Purdie

Published  March 1st 2016 by Katherine Tegen Books

Genres: Young Adult, Fantasy

Edition: ARC

Source: sent to me by publisher

Rating: 1/5 stars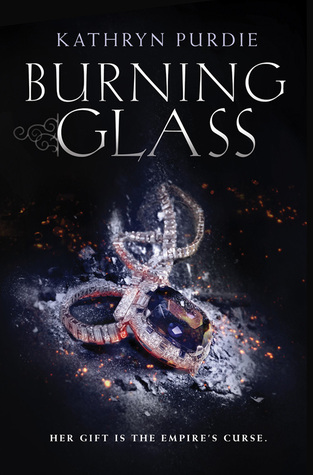 Sonya was born with the rare gift to feel what those around her feel—both physically and emotionally—a gift she's kept hidden from the empire for seventeen long years. After a reckless mistake wipes out all the other girls with similar abilities, Sonya is hauled off to the palace and forced to serve the emperor as his sovereign Auraseer.
Tasked with sensing the intentions of would-be assassins, Sonya is under constant pressure to protect the emperor. One mistake, one small failure, will cost her own life and the lives of the few people left in the world who still trust her.
But Sonya's power is untamed and reckless, her feelings easily usurped, and she sometimes can't decipher when other people's impulses end and her own begin. In a palace full of warring emotions and looming darkness, Sonya fears that the biggest danger to the empire may be herself.
As she struggles to wrangle her abilities, Sonya seeks refuge in her tenuous alliances with the volatile Emperor Valko and his idealistic younger brother, Anton, the crown prince. But when threats of revolution pit the two brothers against each other, Sonya must choose which brother to trust—and which to betray.
BURNING GLASS is debut author Kathryn Purdie's stunning tale of dangerous magic, heart-rending romance, and the hard-won courage it takes to let go.
This book was one of my most anticipated releases of 2016, and I expected it to be SO GOOD- but it wasn't. This book was a colossal disappointment for me. I expected so much more.
what I liked
I liked Pia. I wish she could have been a bit more three dimensional, though. She was just kind of there. But she was so different than Sonya, and added the perfect bit of lightness to the story. Sonya needed her.
what I didn't like
I hate love triangles. Why is this still happening in YA? At least there was only one side to be on. Valko shouldn't have even been there as a love interest. I mean, Sonya kind of didn't feel much for him, because he was manipulative and she got his feelings confused with her own, but she also kind of did. UGH.
I hated Valko and Sonya's relationship SO MUCH. It was abusive and awful.
Anton was the 'real' love interest, but I wasn't a huge fan of him. He was bland and was supposed to be secretive and attractive but just WASN'T.
I felt meh about the writing. I didn't love it, didn't hate it.
A lot of this book is focused on politics. It's not interesting and makes it slower-paced. A lot of the book could have been cut out and wouldn't even matter.
If Sonya's power is that she can tell what others feel, than why was she wrong about everyone???
I didn't like Sonya. She's weak and. annoying. By the end of the book, she goes through some character development, but still not enough to make me like her at al.
The plot was unoriginal. "The main character has more power than anyone else, she's the chosen one, and has to side with the rebellion or the crown, love triangle, etc". It just seemed too similar to other fantasy books I've read.
final thoughts
This book was disappointing in a lot of ways. I expected more from it, and it didn't deliver. I have no interest in reading the second one when it releases.  I wouldn't recommend this book unless you are dying to read it, and think it sounds like something you would love. It was a waste of my precious reading time. And it's terrible, since I was SO excited for this book. It was one of my most anticipated debut releases of 2016, and I hated it. UGH. I WAS AND AM SO ANNOYED WITH THIS BOOK.
Have you read Burning Glass? How did you like it? If you haven't, are you anticipating its release?
Thanks for reading!
Ava