5 Reasons Why You Should Read The Serpent King by Jeff Zentner

Published March 8th 2016 by Crown Books for Young Readers/Random House

Genres: Young Adult Contemporary

Edition: ARC

Source: Thanks so much to @StefaniSloma for lending me her ARC on the ARC tour!

Rating: 4.5/5 stars

This review will be completely spoiler free!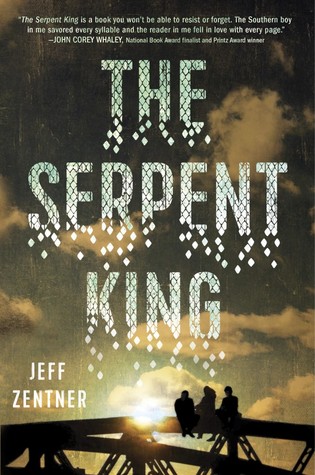 Dill has had to wrestle with vipers his whole life—at home, as the only son of a Pentecostal minister who urges him to handle poisonous rattlesnakes, and at school, where he faces down bullies who target him for his father's extreme faith and very public fall from grace.
He and his fellow outcast friends must try to make it through their senior year of high school without letting the small-town culture destroy their creative spirits and sense of self. Graduation will lead to new beginnings for Lydia, whose edgy fashion blog is her ticket out of their rural Tennessee town. And Travis is content where he is thanks to his obsession with an epic book series and the fangirl turning his reality into real-life fantasy.
Their diverging paths could mean the end of their friendship. But not before Dill confronts his dark legacy to attempt to find a way into the light of a future worth living.
  AHHH. This book was incredible, and I'll try to keep this review (well, I say review. It's 5 things I loved about The Serpent King, but IT COUNTS) from being ALL FLAILS and no actual STUFF about the book. But guys-this book. I highly, highly, highly recommend it.
1. These characters. They are all so unique and interesting and (in an odd way) relatable. I could connect with each of them, in small ways. They are so complex and have their own goals and problems.
2. This whole book is so DIFFERENT from what I normally read. (YA Fantasy, I think we know this by now.) But The Serpent King is a contemporary that is so incredibly weird that I just adored it. I've never read a book like it before. The characters, the premise, the plot-everything was ODD. And I loved it.
3. It breaks your heart. (Yes, you could say this is a reason NOT to read it. But Jeff breaks your heart in a way that is awful, yes, but ABSOLUTELY AMAZING at the same time.) I almost started crying while reading this book, and I do not cry over books very often. But this one deserves all the tears. I was left completely speechless after finishing The Serpent King.
4. Jeff's writing is just absolutely gorgeous. How is this a debut novel? His writing flows into something that is just indescribable, it's just that perfect.
5. You really feel like you're living in a small southern town while reading this book. The details included in this book are just right: not overly described, and not underly. You're never overwhelmed, but you are experiencing this right along with these characters. It's so amazing to read.
final thoughts
The Serpent King grabs your heart from the very first page and doesn't let it go. Then, it rips it out. This a wonderful, heartbreaking, unique story made incredible by Jeff's writing and these characters that will stick with you. If I haven't convinced you to pick up The Serpent King yet, something must be wrong with you. Because you HAVE to read this book.
Are you planning on reading The Serpent King? (The answer should be a resounding YES.) If you've already read it, what did you think?
Thanks for reading!
Ava