A Gathering Of Shadows: A Second Book That Was Even Better Than The First

If you know me at ALL, you know that I love Victoria/ V.E. Schwab and all of her books. Seriously, there hasn't been one I haven't enjoyed. And A Gathering of Shadows did not disappoint.

A Gathering Of Shadows by V.E. Schwab

Published February 23rd 2016 by Tor Books

Genres: Fantasy

Format: Hardcover

Source: Purchased

Pages: 512

Rating: 5/5 stars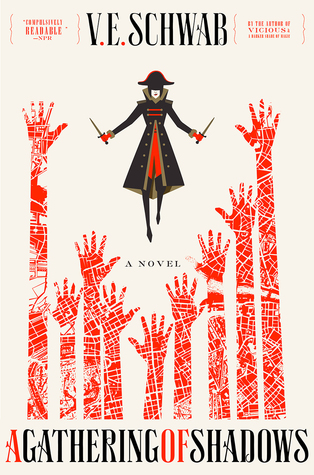 Four months have passed since the shadow stone fell into Kell's possession. Four months since his path crossed with Delilah Bard. Four months since Rhy was wounded and the Dane twins fell, and the stone was cast with Holland's dying body through the rift, and into Black London.

In many ways, things have almost returned to normal, though Rhy is more sober, and Kell is now plagued by his guilt. Restless, and having given up smuggling, Kell is visited by dreams of ominous magical events, waking only to think of Lila, who disappeared from the docks like she always meant to do. As Red London finalizes preparations for the Element Games—an extravagant international competition of magic, meant to entertain and keep healthy the ties between neighboring countries—a certain pirate ship draws closer, carrying old friends back into port.

But while Red London is caught up in the pageantry and thrills of the Games, another London is coming back to life, and those who were thought to be forever gone have returned. After all, a shadow that was gone in the night reappears in the morning, and so it seems Black London has risen again—meaning that another London must fall.
Already I know that A Gathering Of Shadows will be one of my favorite books of 2016. I loved every minute of it. And it did not suffer from middle book syndrome AT ALL, as some second books in trilogies do. It was absolutely incredible.
What I Liked:
The characters MAKE this book as incredible as it is. They were amazing in the first book, but in this book they are just the best. They are realistic and developed and unique and I loved it. We are introduced to a few new characters, and we see our old ones. Lila is one of my favorite characters of all time. I just adore everything about her. And we get to know more about Rhy, who I love.
I loved how Lila and Kell weren't together for part of the book. They each have their own goals and don't depend on each other for everything. I was anticipating them meeting again, sure, but they are each their own person, and strong by themselves.
The romance was amazing. It wasn't overwhelming, but it was still there and so fun to read. I love them together, and can't wait to see what happens in the next book.
The Element Games were so intriguing. In A Darker Shade Of Magic, we learn about Antari magic, but in this one, we learn more about elemental magic. I loved it.
That ending was AWFUL, but perfect at the same time. I am eagerly anticipating the third and final book that releases next year. I can't believe we have to wait a whole YEAR to read it. The wait is going to kill me.
What I Didn't Like:
I know I said it didn't suffer from middle book syndrome, but I have to say it WAS slower paced, which could be considered a negative thing. It didn't affect my enjoyment of it, but I did notice it.
Favorite Quotes:
"They danced in silence for several long moments, spinning together and apart, a slower version of their cadence in the ring. And then, out of nowhere, Lila asked, "Why?"
"Why what?"
"Why did you ask me to dance?"
He almost smiled. A ghost. A trick of the light. "So you couldn't run away again before I said hello."
"Hello," said Lila.
"Hello," said Kell. "Where have you been?"
"Oh yes, your relationship with Miss Bard is positively ordinary."
"Be quiet."
"Crossing worlds, killing royals, saving cities. The marks of every good courtship."
"They crashed into each other as if propelled by gravity, and he didn't know which one of them was the object and which the earth, only that they were colliding. The kiss was Lila pressed into a single gesture. Her brazen pride and her stubborn resolve, her recklessness and her daring and her hunger for freedom. It was all those things, and it took Kell's breath away."
"She bent most of the rules. She broke the rest."
Final Thoughts
Wow, this book was heartbreaking and amazing all at the same time. This trilogy is one of my favorites ever, and I highly recommend you pick it up. Seriously, please read it. It's incredible.
Have you read A Gathering Of Shadows yet? How did you like it compared to A Darker Shade Of Magic? If you've only read ADSOM, what did you think? Do you plan on reading the second?
Thanks for reading!
Ava