April SST: 4 Reasons Why You Should Read The Island by S. Usher Evans
When I saw that I could sign up for The Island SST, I was SO EXCITED, because I absolutely adore the author and was anticipating this book. I jumped at the chance to read and promote it, and luckily I won a giveway for the actual book so I got to keep it!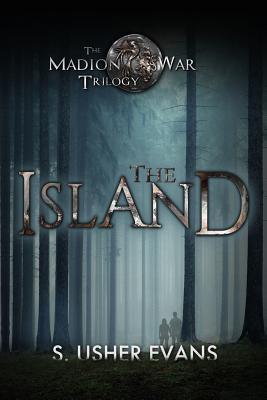 Book Info:
Published April 26, 2016 by Sun's Golden Ray Publishing
Genres: Young Adult, Fantasy, Romance
Format: Paperback
Source: Won in giveaway hosted by author
Series: Madion War Trilogy #1
You can add The Island on Goodreads here.
Preorder The Island!
Amazon | Barnes & Noble | Book Depository
My Review:
I enjoyed The Island, but did have some quibbles with it. In this review, since I'm part of the blog tour, I'm going to be talking about the positive things, but in my Goodreads review, you'll see both. Here are 4 reasons why you might love The Island.
1. No love triangle. 
This is a huge good thing for me, since I hate love triangles. From the beginning of the book, there was no other person.
2. Amazing character development. 
Seriously, by the end of the book, both Theo and Galian (our main characters) are so different- in a good way. They change and become better and more complex and interesting as the book goes along, and I loved it.
3. I loved the romance. 
It's not insta-love, and I wouldn't categorize it as a slow-burn romance, it was just right in the middle. And I really enjoyed it. The banter was AMAZING, and the hate-to-love trope (which I love) was done amazingly.
4. It's very short and fast-paced. 
There's no being bored with this book! Things are happening constantly, and it was fun to experience these events along with the characters.
Overall, I enjoyed The Island, and am excited to see where the author takes the story in the next books.
Synopsis:
Prince Galian is third in line to the throne, but prefers his place as a resident at the Royal Kylaen Hospital. When his father urges him to join the military to help reclaim their colony, Galian is forced to put aside his oath to Do No Harm and fight a war he does not believe in.

Across the great Madion Sea, Captain Theo Kallistrate dreams of a day when she is no longer bound by conscription to fight for her country's independence. But when the Kylaens threaten, honor and duty call her to the front lines to fight off the oppressors.

When an air skirmish goes wrong, both Theo and Galian crash on a remote island hundreds of miles from either nation. Grievously injured, Theo must rely on Galian's medical expertise, and Galian must rely on Theo's survival skills, to live another day in a harsh and unforgiving terrain.

Can they put aside their differences long enough to survive? Or will the war that brought them to the island tear them apart?
About the Author:
S. Usher Evans is an author, blogger, and witty banter aficionado. Born in Pensacola, Florida, she left the sleepy town behind for the fast-paced world of Washington, D.C.. There, she somehow landed jobs with BBC, Discovery Channel, and National Geographic Television before finally settling into a "real job" as an IT consultant. After a quarter life crisis at age 27, she decided consulting was for the birds and rekindled a childhood passion for writing novels. She sold everything she owned and moved back to Pensacola, where she currently resides with her two dogs, Zoe and Mr. Biscuit.
Evans is the author of the Razia series and Empath, both published by Sun's Golden Ray Publishing.
Giveaway
Enter this giveaway to win a copy of The Island and swag! It is US only (sorry, international friends.)
Have you read or heard of any books by S. Usher Evans? What did you think? Based on the things I've talked about here, are you interested in picking it up?
Thanks for reading!
Ava