Do You Listen To Music While Writing Blog Posts? + Music I've Been Loving Lately
So you may not know this about me, but I LOVE music. I don't talk about it very much here, but it is such a huge part of my life. Not as big as books, of course, but you can almost always find me with headphones in.
And always, always, when I'm writing a blog post, you'll find me listening to music. The song that's playing RIGHT NOW is Hold Me Down by Halsey.
I started wondering: Was I the only one who listened to music when writing ANYTHING? So I decided to write a post about it!
Music helps me concentrate. I don't like the silence, either, so music is there for me. But I've heard some people say it distracts them. I don't understand how people write without it, but I'm sure people say the same thing about writing with it! It's interesting.
I've also heard people say they can only listen to music without words while writing, and that helps them. I listen to this too while writing (Harry Potter soundtracks!), but it doesn't make a difference if it has lyrics or not.
If I'm blogging, doing homework, writing, or ANYTHING where I need to focus, music helps me.
After you finish reading this post, comment and tell me if music helps or doesn't help you write!
What's my music taste like, you might ask?
Well, it's a wide range of genres. That's the best way to put it. I will listen to almost ANYTHING. Here's what I've been loving lately.
First and foremost, I have to mention Hamilton.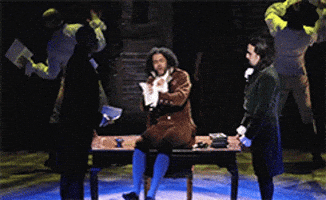 If you follow me on Twitter, you know that I am obsessed with it. If you have been living under a rock, Hamilton is a musical that is INCREDIBLE. And you can listen to it for free on Spotify! I highly, highly recommend you at least try it.
My lovely friend Hannah has a Spotify (find her at Hannah Siddiqui), and I've been loving her "Indie Pop Even Your Mom Can Jam To" playlist.
Seriously, it's amazing. I listen to it constantly. If you like The 1975, Halsey, The Neighborhood, or Arctic Monkeys, check it out. It also has songs and bands I'd never heard of, and is a nice blend of everything I love. So even if you don't like the aforementioned bands/artists, you should try it. I use this playlist for everything.
This brings me to my next obsession: Halsey.
A while ago, when Badlands came out, I listened to it constantly. Now I'm finally re-listening and falling in love with it again. Her lyrics are just incredible. I love all the songs on Badlands, but I'm obsessed with Young God and Drive right now.
Another friend of mine, Viktoria, has an 8tracks. (Seelieknight)
I love all of her playlists SO MUCH, especially because she matches them with books or characters. If you like more folk/indie music, check it out. Here's one of my favorite playlists.
Another music love of mine is… musicals.
This might not surprise you because of Hamilton, or it might because of the above music. I can belt out all of the lyrics to almost any Disney song, know every word of every song in Les Miserables or Grease…
Yes, my music taste is varied. But I just love (almost) everything, I can't help it!
Do you listen to music while writing blog posts? What's your taste in music like? What have you been loving lately? Do you like any of the same music I do?
Thanks for reading!
Ava