A Court of Mist and Fury by Sarah J. Maas
I read the first book in this series, A Court Of Thorns and Roses, last year when it came out. And I was disappointed. It was just okay for me, and I expected so much more since I loved the Throne of Glass series. When ACOMAF came out, I picked it up just to see if it was any better than ACOTAR. And I LOVED it.
This book surprised me in how much I absolutely adored it. I loved every word. I loved the new characters, I loved the new places, I loved everything about it.
Even if you thought ACOTAR was okay, I'd encourage you to try ACOMAF. And if you loved ACOTAR, I'd prepare you to have a new favorite.
1. Rhysand
"To the people who look at the stars and wish, Rhys."

Rhys clinked his glass against mine. "To the stars who listen- and the dreams that are answered."
Rhysand is my new favorite book boyfriend. I loved everything about him and what he did for Feyre in this book. He's just so amazing and gorgeous and I adored his character. In ACOTAR, the first book, I thought he was alright. But in this book… Holy cow.
2. Accurate portrayal of mental illness
"There are good days and hard days for me—even now. Don't let the hard days win."
At the beginning of the book, Feyre is suffering from PTSD, and though it HURT to read, it also felt so very real. Maas shows us how awful Feyre was doing, and what Tamlin was doing to her.
3. Tamlin vs Rhysand
Unlike in Maas's Throne of Glass books where the love interests change too often (and don't get me wrong, I still love them), the shift from Feyre's interest in Tamlin to Rhysand feels authentic. While in the first book Feyre was blinded by her attraction to Tamlin, here we see him how he really is: controlling, threatening, and absolutely awful. I hated him in this book. He actually LOCKED HER UP in his house, knowing that she wanted to go out and help him and knowing what she went through Under the Mountain.
4. Feyre's character development
"I was not a pet, not a doll, not an animal.

I was a survivor, and I was strong.

I would not be weak, or helpless again

I would not, could not be broken. Tamed."
"No one was my master— but I might be master of everything, if I wished. If I dared."
Throughout this book, she changes and grows as a character so much, and it was just wonderful to watch.
5. The new characters
We are introduced to some amazing characters in this book, including Rhysand's Inner Circle: Cassian, Azriel, Amren, and Morrigan. I loved them all so much. It was so interesting to hear about how they met and their different backstories.
6. Lack of diversity
I was disappointed with the lack of diversity in this book. With such a popular series, so much could be done with these new characters to make them realistic, yet every one was cisgender, straight, and able (as far as we know). Yes, I loved each of them, but I wanted diversity.
7. Huge and slow paced at times
Okay, I did love every minute of this book, but it WAS long. And at a few spots, I may have gotten a little bored. Not many, obviously- you see the high rating. But still enough for me to mention it here.
8. Gorgeous writing
It was beautiful. Every word was chosen to make the story flow, and it was perfect. I also loved reading from Feyre's POV.
9. Exploration of this world
In A Court of Mist and Fury, we get to see more of the world that Sarah has created. And I loved it. I loved seeing Velaris, the Night Court, the Summer Court… Everything was described so vividly through Feyre's eyes that it made me feel like I was there.
While Maas's books never fail to amaze me, she keeps improving with each one. This addition to the ACOTAR series was fantastic, and I can't wait to see where she takes this story in the next book. I'm dying for ACOTAR3 to come out next year, so I know what happens to my precious characters.
A Court of Mist and Fury by Sarah J. Maas
Published May 3rd 2016 by Bloomsbury USA Childrens
Genres: Fantasy
Format: Hardcover
Source: Purchased
Pages: 624
Rating: 4.5/5 stars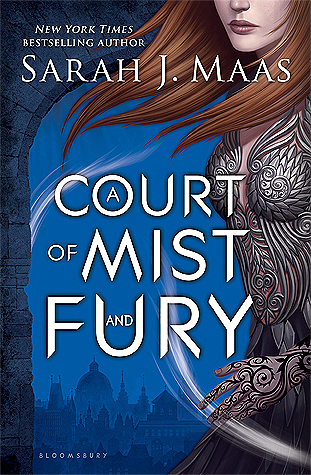 "Tell me what you see."
"A world divided in two."
Feyre survived Amarantha's clutches to return to the Spring Court—but at a steep cost. Though she now has the powers of the High Fae, her heart remains human, and it can't forget the terrible deeds she performed to save Tamlin's people.
Nor has Feyre forgotten her bargain with Rhysand, High Lord of the feared Night Court. As Feyre navigates its dark web of politics, passion, and dazzling power, a greater evil looms—and she might be key to stopping it. But only if she can harness her harrowing gifts, heal her fractured soul, and decide how she wishes to shape her future—and the future of a world cleaved in two.
Have you read ACOTAR or ACOMAF? What did you think? Did you like one more than the other? Are you as obsessed with Rhysand as I am?
Thanks for reading!
Ava