Today, I'm back with another Diversity Spotlight Thursday, this time focusing on books with characters that have anxiety. I've done recs with pansexual and Asian Muslim characters, so I decided this week was the time for recommendations for books featuring mental illnesses – and because I'd just grabbed two of the following titles from ALA, books with characters with anxiety would be first. 
Anxiety is something that many people struggle with, and seeing a portion of your identity represented in books can help, even in the smallest way, so I hope that for my followers with anxiety, reading these books does help. For those of us who do not have anxiety, reading them can open our eyes to what people with anxiety face. It's a win-win situation, and that's why I chose to spotlight three books with characters with anxiety today.
If you missed my first Diversity Spotlight Thursday post and want to find out why I'm participating in this and discover three books featuring pansexual characters, you can check it out here.
What is Diversity Spotlight Thursday?
Diversity Spotlight Thursday is a weekly meme hosted by Aimal at Bookshelves and Paperbacks to promote diverse books: participators list one book they've read and enjoyed, one already released book on their TBR, and one diverse book that has not yet been released. For more information, check out the announcement post.
Clicking on the titles will lead you to the Goodreads page of the book. Without further ado, here are three books featuring characters with anxiety! 
1. A diverse book I read and enjoyed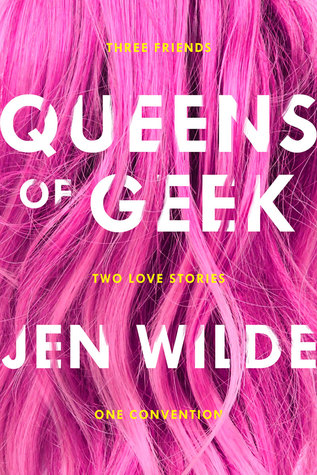 When BFFs Charlie, Taylor and Jamie go to SupaCon, they know it's going to be a blast. What they don't expect is for it to change their lives forever.
Charlie likes to stand out. SupaCon is her chance to show fans she's over her public breakup with co-star, Reese Ryan. When Alyssa Huntington arrives as a surprise guest, it seems Charlie's long-time crush on her isn't as one-sided as she thought.
While Charlie dodges questions about her personal life, Taylor starts asking questions about her own.
Taylor likes to blend in. Her brain is wired differently, making her fear change. And there's one thing in her life she knows will never change: her friendship with Jamie—no matter how much she may secretly want it to. But when she hears about the Queen Firestone SupaFan Contest, she starts to rethink her rules on playing it safe.
This is one of my all-time favorite books. I've read it twice, and plan on rereading again many times in the future. Besides the excellent anxiety representation (Taylor, one of the main characters, has anxiety and is on the Autism spectrum), the other main character is Chinese-Australian and bisexual, and it's such a wonderful story. I highly, highly recommend Queens of Geek to every reader. You will love it.
2. An already-released diverse book on my TBR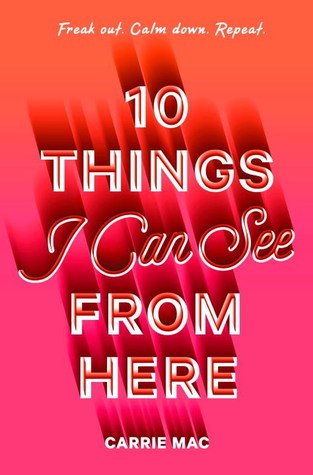 Perfect for fans of Finding Audrey and Everything, Everything, this is the poignant and uplifting story of Maeve, who is dealing with anxiety while falling in love with a girl who is not afraid of anything.
Think positive.
Don't worry; be happy.
Keep calm and carry on.
Maeve has heard it all before. She's been struggling with severe anxiety for a long time, and as much as she wishes it was something she could just talk herself out of, it's not. She constantly imagines the worst, composes obituaries in her head, and is always ready for things to fall apart. To add to her troubles, her mom—the only one who really gets what Maeve goes through—is leaving for six months, so Maeve will be sent to live with her dad in Vancouver.
Vancouver brings a slew of new worries, but Maeve finds brief moments of calm (as well as even more worries) with Salix, a local girl who doesn't seem to worry about anything. Between her dad's wavering sobriety, her very pregnant stepmom insisting on a home birth, and her bumbling courtship with Salix, this summer brings more catastrophes than even Maeve could have foreseen. Will she be able to navigate through all the chaos to be there for the people she loves?
This book features a queer main character with anxiety – How could it not be on this list? But in all seriousness, this one looks fantastic. It's very underhyped, and not many of my friends have read it, but I am very excited to see what I think.
3. A diverse book that has not yet been released
27 Hours by Tristina Wright
Rumor Mora fears two things: hellhounds too strong for him to kill, and failure. Jude Welton has two dreams: for humans to stop killing monsters, and for his strange abilities to vanish.
But in no reality should a boy raised to love monsters fall for a boy raised to kill them.
Nyx Llorca keeps two secrets: the moon speaks to her, and she's in love with Dahlia, her best friend. Braeden Tennant wants two things: to get out from his mother's shadow, and to unlearn Epsilon's darkest secret.
They'll both have to commit treason to find the truth.
During one twenty-seven-hour night, if they can't stop the war between the colonies and the monsters from becoming a war of extinction, the things they wish for will never come true, and the things they fear will be all that's left.
27 Hours is a sweeping, thrilling story featuring a stellar cast of queer teenagers battling to save their homes and possibly every human on Sahara as the clock ticks down to zero.
I can't explain how excited I was to discover just this morning that 27 Hours, in addition to many other marginalized characters, also features a character with anxiety. This book is perfect, and is going to do so much. I'm sure many of you already have this one on your TBRs, but I just had to include it here. I cannot wait to dive into it, and I'm sure you feel the same.
And there you have it – three books with characters with anxiety! There are more out there for you to find, and hopefully many more coming in the future, but I hope these three helped add to your TBR. I'm hoping to pick up 27 Hours and 10 Things I Can See From Here very soon (I was able to get copies of both at ALA), and I'm excited to read them. Queens of Geek is a forever favorite of mine, and I'm already recommending all three of the above books from what I've heard of them, so happy reading!
What book(s) with characters with anxiety have you read? What books with characters with anxiety are on your TBR? Are any of them the same as on my list? If you participated in DST, link me to your post – I'd love to check it out.
Thanks for reading,
Ava